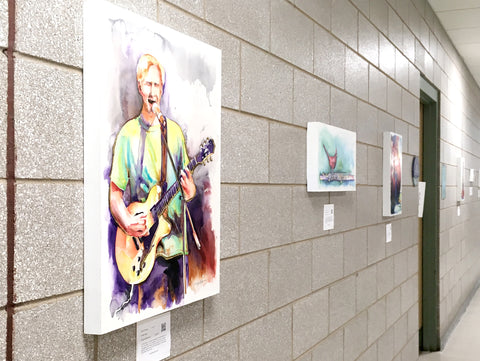 Giving Back at the Anderson Area YMCA
I am showing selected original art and prints at the Anderson Area YMCA. I'm so delighted to donate thirty percent of the sales of the art to fund scholarships for kids at the YMCA. I work out there regularly, and my son attends programs there. I am inspired to help other families enjoy the wonderful services at the Y.
I am showing with Anderson area artists Susan Jane Anderson (photography ) and Carlene Shuler Brown (watercolor and collage.) The show opened September 7, 2018 and will hang through October.
The campaign raises money to make sure the YMCA's doors are open to all. Children whose parents do not have the resources to enroll them in team sports, swim lessons, or after school care receive reduced rates for these programs through scholarship assistance. When you purchase at this art event, you are supporting local artists and children in the community!
You don't have to be a YMCA member to attend the opening or come see the show anytime: just let the front desk know that you want to see the art and it's free to visit whenever the YMCA is open.
I'll also be attending the Women's Health and Fitness Day from 8:30 - noon on Wednesday, September 26. I'll have more prints, and some information about the commission packages that I sell.  Maybe I'll see you there!