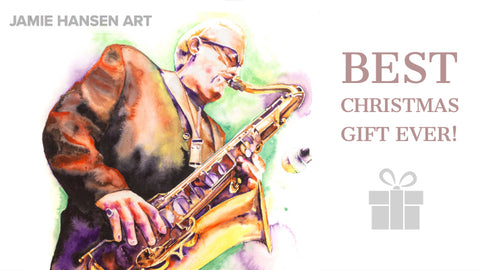 Best Christmas gift EVER! (A Watercolor Commission Story)
"It was so easy and fun to work with Jamie on my special Christmas gift for my husband. Her creativity and enthusiasm for her work is contagious.  I sent her several possibilities and she chose the exact image to use that best showcases my husband's personality. She kept me in the loop with regard to her progress the entire way, and the end result nailed it! My husband declared it the best Christmas gift ever! Don't wait any longer. If you need that special gift for someone contact Jamie today!!!!"  - Kelley, SC.
I have completed commissioned art for families all over the world and I would be delighted to collaborate with you on an artwork. 

I take a lot of commissions. I think that's because I started my career as a graphic artist, where my art and design sensibilities had a very clear purpose: to communicate very specific information.

Because of my years of experience in the digital darkroom and my graphic design expertise, I always mock up commissioned art up on the computer before I paint.  I can adjust the lighting, the colors, and give you a very good idea of what your art will look like before I ever actually paint the piece.   I decide on colors and composition, and consider the way the art will look in its new home.

Here's my commission process:
I usually work from photos. If you don't have a photo and are local, I can shoot one!  I collect a $150 deposit to start.  This covers my plan for the art as well as my time to adjust the composition and colors of the photo.
We choose colors, a composition, and a size that works for your space and your budget.  I can also help with framing, or mount the finished watercolor on a wood panel that doesn't need to be framed.
I'll ask you to sign off on a proof.  I'll use my mock-up to paint your final art, so I'll have you sign a digital proof of the art before I paint.
I paint the final work.  Depending on size and my workload, the final artwork might take me weeks, or a month or longer.
I'll request final payment after I complete the art. You can purchase the art online or pick it up from me if you're local.

Have you ever commissioned artwork before? If you're an artist, do you enjoy taking commissions?  Interested in talking about a work? Contact me!