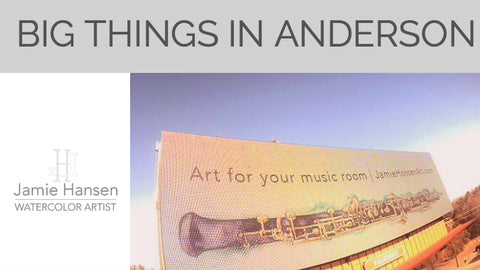 Doing Big Things in Anderson!
I'm doing big things in Anderson!  Did you see my billboards last week?  I was so delighted to have my art displayed on big billboards on Clemson Blvd and on North Main Street.

The billboards were a result of a contest through the One Million Cups program sponsored by the City of Anderson Economic Development office.  The Economic Development Office in Anderson is on Murray Street and offers a variety of programs to small businesses such as marketing advice, business planning, and networking opportunities.  I recorded a video about how the program helped me, and they gave me billboard space!

I presented a short slideshow about my work in October of last year.  I talked to the group about my desire to create large-scale watercolor art and my struggles to manage multiple client projects and deliver timely results for all my commissions. I asked them about how artists can define success and how to grow from here.  I got wonderful feedback about new software to manage client milestones and contracts.  I also took away a little more confidence that my illustration business is working, and it will help support me as I reach towards my artistic goals.

The One Million Cups program is a free program designed to educate, engage and inspire entrepreneurs around the country. As a program of the Kauffman Foundation, 1 Million Cups works with entrepreneurs, empowering them with the tools and resources to break down barriers that stand in the way of starting and growing their businesses.

The City of Anderson Economic Development office has other exciting programs in the works for entrepreneurs. Headed by former Arts Center Director Kimberly Spears, they are a group of supportive ladies who help make community connections and encourage new ideas.  Starting this year, they will host a program called B.Y.O.B - or Build Your Own Business.  The program will bring in guests to provide information about aspects of building a business.  They meet on the third Thursday of every month from 12-1:30.

The support that I've received from Anderson and the Economic Development Office has been so valuable to me as I grow my art career.  I am so grateful to Anderson for helping me do big things!