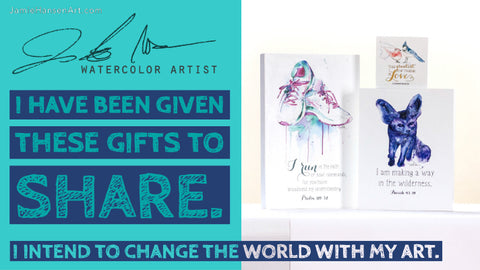 An interview with myself.
This year, I've covered an inspiring distance in my art career.  As I start 2019, I'm imagining an interview with myself - my younger, more fearful self from January 2018 - learning from myself now in January 2019.   Here I look over a few highlights from this amazing year. 


---
2018 Jamie:
You've just finished an amazing Christmas season where you booked more projects than ever before. Where did all your new clients find you? 


2019 Jamie:
At the beginning of the new year, I invested in some professional SEO services for my FlourishFamilyCrests website and I think that helped a lot.  But many of my wins and blessings came from tiny seeds that I planted earlier in the year. 


2018 Jamie:
What's an example of those tiny seeds? 


2019 Jamie:
I scattered tiny seeds everywhere - I started new social media profiles, got on Instagram, created new portfolios, and set up this Shopify store as well as a new Squarespace website for FlourishFamilyCrests. 


My Etsy shop was successful at the beginning of 2018, but I knew that I wanted to pivot and move some of my sales off of Etsy.  Etsy raised their fees earlier this year, and they don't encourage users to collect email addresses.  In addition, I offer very customized products and services that require a lot of one-on-one collaboration.
I was looking for flexibility to collaborate with my clients, and the tools to establish long-term relationships and friendships with my patrons.  I've invested in some wonderful software that will give my clients and patrons the personalized service that is at the heart of my purpose for my work.


2018 Jamie:
I'm so confused about where I'm going.  I'm scared that I might fail, or at the very least that I'm being selfish in choosing to pursue my art business full-time.  What have you discovered? 


2019 Jamie:
My experiences, gifts, and resources are a gift from God. The things that I have to say are important and will bring joy to my community and to my clients. I have been given these gifts to share - and I intend to change the world with my art.  Keeping my gifts to myself would be selfish.


My joy means more to my family than the steady paycheck that I chose to leave behind.  My family and the support that they continue to give me are another amazing gift from God.  I am so grateful for all my amazing blessings, and I am learning to let the gratefulness crowd out the fear. 
---
Follow my new Instagram feeds at