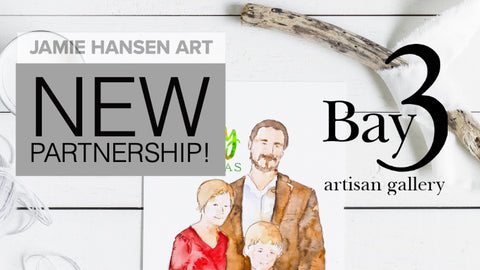 Announcing my partnership with Bay 3 Gallery!
I am an artist.  But what exactly does that mean?  There are so many ways to be an artist and so many ways to serve the community and the world around me through art.  So, an artist - one who creates art - is tasked with not only creating the art, but discovering how the things that they create serve the world around them.

As an artist, I feel that my job is to lift up others in my world and say things that might go unnoticed.  I note the beautiful ways that light reflects off a shiny brass instrument.  I elaborate on the brilliant colors of a handmade drum. I capture the sparkle in the eyes of a beloved pet.  I celebrate the things that are beautiful in God's amazing creation.

Therefore, it is with joy that I announce another step towards lifting up the beautiful things in my community: my new partnership with Bay 3 Gallery.  As a partner, I will work in the gallery a few times a month and I will serve the other artist partners as they share their work.  I will hang a selection of my recent work in the gallery on a permanent basis.

Bay3 Gallery is located in the Anderson Arts Center next to the downstairs Atrium Gallery.  It's open Tuesday - Saturday and also by appointment.  It's a wonderful Saturday morning destination: shop the farmer's market next door and then see local art.  As far as I know, Bay 3 is the only cooperative art gallery in the city of Anderson.  All the art there is created by members of our Anderson SC community.

Follow along!  I'll be taking over some of their facebook feed, so you can follow them here and learn more soon about the fantastic artists that I'm partnering with.