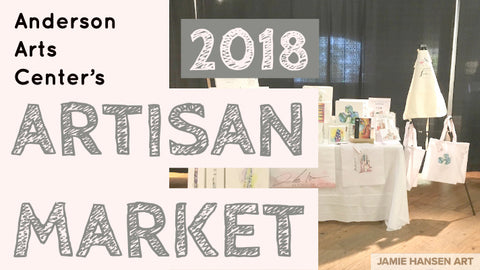 2018 Anderson Arts Center Artisan Market Recap
I had such a great time meeting everyone who came out to the Anderson Art Center's first annual Artisan Market.  I was excited to be among the first group of talented artists and makers to set up in the upstairs gallery for the event.
We set up on November 29th and 30th, and the Anderson Chamber of Commerce had a fantastic "Sip-n-Shop" event on the night of the 29th. 
Here's some of my favorite artisans I met at the event:
https://www.etsy.com/shop/WillowAndPoppy
On my right side, this talented jewelry maker creates pendants with hymnals.  I loved talking with her about how to be successful on Etsy and online.
https://www.etsy.com/shop/SJsProducts
Jamie's soaps and candles are made with high-quality ingredients and smell so good!
https://rickkirby.org/kirby-coffee/

Pretty much every coffee drinker on my Christmas list is getting a bag of Rick's super-fresh coffee!
---
https://www.etsy.com/shop/beadifuljewelry
Jewelry by Linda Pratt. Here's my friend Betsy modeling one of Linda's works!
https://www.facebook.com/nestingdollpottery/
Pottery by Emily Freelin - I love her earthy and pretty style.
---
There were so many talented artists at the arts center.  I got almost all my Christmas shopping done while I was there!  Were you there?  If you were a vendor there, reach out so I can add you to this list!