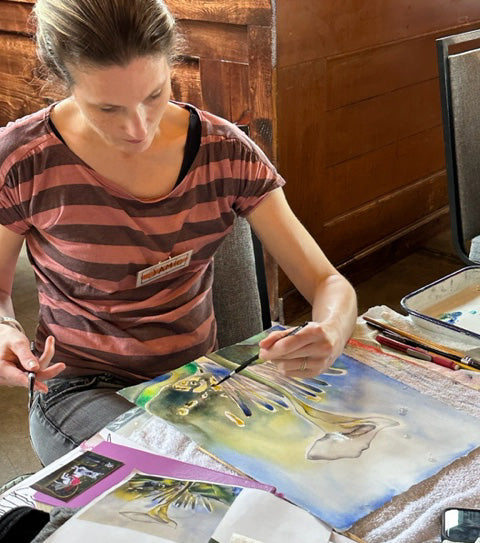 A Trip to Saint Louis
Learn the rules. Then break them so you can make poetry.
August is an amazing time to visit Saint Louis. I was told that the heat was oppressive last week, but the weather was mild during my stay this weekend.
I went up for the weekend to study with Carol Carter, a brilliant watercolor painter whose style and palette have a heavy influence on my work. I fell in love with her watercolors about fifteen years ago.

She was going to teach the workshop in her studio on Shenandoah Avenue, but after the air conditioner went out in her studio, she moved it to SqWires, a wonderful restaurant and event space. The nine of us worked in a event space that was formerly a Western Wire manufacturing building.
We painted flowers and talked about meaning, art, materials, and watercolor techniques. I took pages of notes about how to coax luxurious and colorful washes onto a page, and how to design pieces that make my viewers want to swim in my art for a little longer.
I stayed in a pretty Air B&B a few blocks from her studio that was over 100 years old. Yan, my host, cooked a wonderful noodle dish for me one morning. Spending the time with all the art and kindness at the workshop makes my heart feel so full.
Carol and I had dinner with Lisa Hilton, a sculptor who creates elegant figurative work. It felt so powerful to sit at a table with these accomplished and motivated female artists and talk about our purpose and the trajectory of our careers.
What an amazing trip to study with Carol, I am so grateful for the opportunity to learn from her again!