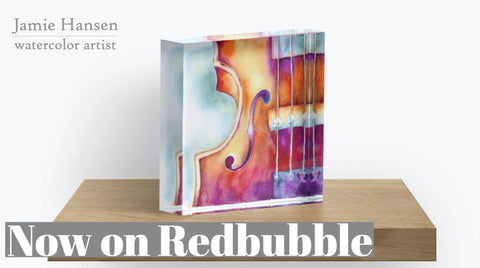 Why did I get on Redbubble and Zazzle if I'm already on Shopify and Etsy?
Now find me on Zazzle and Redbubble.
I've built websites since 2002 and I love the process of building a site, branding it, and letting it grow and evolve.  I started my first Etsy shop to sell my work more than ten years ago. I fell in love with Shopify after I used it on a client site in 2015 and I've had my own Shopify store to sell my art since 2017.  I've used the platform to sell original art, digital products, and print on demand items.  It's my own little corner of the web that's completely mine.
So, why all the other marketplaces?  For me, it comes down to scalability.  The COVID crisis has touched all aspects our lives and it has impacted my ability to fulfill and ship the items I had created through my POD marketplaces.  Even as my web traffic was up and patrons were buying my work, I was fretting about how and where I would fulfill the orders, how I would ship, and if the items would reach their destinations.  One of my printers shut down completely. Another partner had a backlog of more than a month. I ultimately shut off all international orders on my site after several orders took more than a month to reach their destination.  I still won't ship internationally from my website.   It's just too risky for me to chance giving a customer a bad experience because I don't have the time to research international shipping timeframes. 
I am small, but I am nimble. Since I want to focus on creating beautiful art, I'll let someone else handle the manufacturing, shipping, and delivery.  I'll sell templates, downloads, and of course, my original art on my own site. I'll still work with a few trusted partners to create things like canvas art and cell phone cases to sell on my own site, but my plan is to shift a lot of the products to places like Redbubble and Zazzle so my international customers can have a better experience with my art.
Shop this cool little acrylic print here.