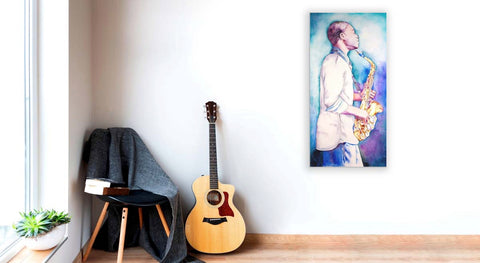 Portraits Project: Art by Jamie Hansen coming to the Anderson Arts Center in September 2021
My current portrait series about musicians' experiences during COVID is coming to the  Anderson Arts Center in September 2021. I'll be installing my portraits in the atrium gallery downstairs in the arts center. 
I am married to a musician and music educator. I saw firsthand how deeply the musicians around me were impacted through the COVID crisis. I felt drawn to respond through my own work: re-framing their stage through my art.
This show will be unique: the ideas for every piece included in the exhibition will be crowdsourced. I'm exploring ideas about the ways the pandemic has changed ways that we perform, shifts in which instruments we are most drawn to, and if our music has become a refuge or a frustration. I also sense I'm documenting a lasting pivot in the ways we distribute and consume art and music. My brightly colored portraits will explore themes of adaptation, resilience, and hope. 
Established in 1972, The Anderson Arts Center is located at 110 Federal Street in Anderson, South Carolina.  An opening reception for the show is tentatively scheduled for Friday, September 10, 2021 and will feature music from the Sounds of Carolina Music Academy. My last show at the Anderson Arts Center was in August of 2018 and I'm delighted to be returning to the venue to celebrate stories about music. 
I hope to see you at the show!  Are you interested in participating in my project?