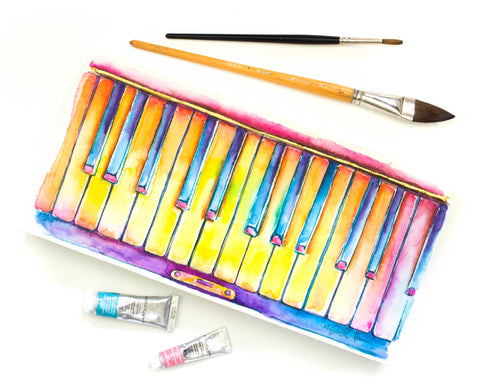 Reflecting on Russell Jewell's June 2018 workshop
Russell Jewell: https://www.russelljewell.com
I took the opportunity to attend a workshop from Russell Jewell at the Anderson Arts Center this weekend. It was a two-day workshop attended by nine other experienced watercolorists. We learned about Russell's techniques for creating works "en plein air"  (in the field)  and focused on beginning each work with a small pencil thumbnail where we explored light and dark.
Russell teaches art at Easley High School in Easley, SC and has won plein air competitions, judged art shows, been published in Watercolor Splash, and received many purchase awards for his work. I really admired his well-structured lessons and his well-prepared videos and slideshows that broke down the process of creating a work into an easily manageable, step-by-step method. After a thumbnail sketch in pencil, Russell paints using a series of washes that gradually tease the shadows from the composition and preserve the light.
I was intrigued by his artist's statement, which is simple but profound: "Consider a black square, truth is, the black square is simply an image of everything in the world in the dark... therefore, regardless of subject all that really matters is light. My goal is to paint light, pure and simple. "
He uses washes of paint to unite a piece, give atmosphere, and direct a viewer's eye around the work. He layers wash over wash - a process that I have not used in years. We worked though two step-by-step demonstrations using Russell's compositions and then created one work of our own. 
I wrote down a few new art supplies to find, and learned some insights about putting works in art competitions. The workshop challenged me and helped me bring new ideas into the studio. I am grateful that I had the opportunity to work alongside Russell Jewell and the other talented artists at the Anderson Arts Center this weekend.