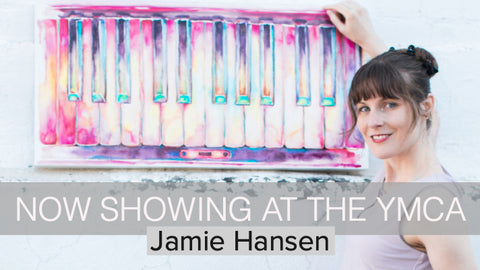 Instrumental: an exhibit by Jamie Hansen to benefit the Anderson YMCA
I will showcase a selection of my latest work at the Anderson Area YMCA from June through August. For every piece that is purchased,  I am donating thirty percent of the sales back to the YMCA's annual campaign. The YMCA uses those funds toward scholarships for individuals and families to enroll in programs such as swim lessons, youth sports, summer camps and general memberships.
"We are delighted to have Jamie's work on display at the YMCA this summer." says Anne Tedder, Fund Development Director for the Anderson Area YMCA. "As a YMCA member, Jamie recognizes the importance of making our programs and services available to those in need. Her support of the annual campaign through the art exhibit will provide extra dollars to fund financial assistance. I encourage everyone to come see her wonderful works of art!"
One of my most recent pieces displayed is "Two Octaves," a watercolor of my piano keyboard.  My family's 1925 Cunningham Grand piano has figured prominently in my recent work.  Our family's piano is an important tool for my husband, a music educator.  It also reminds me to practice my art daily: just as a musician practices their songs, an artist improves their craft by practicing constantly.
The show at the YMCA is my first solo show in 2019, but not the only venue where I show my work.  I am a member of Bay3 Gallery in the Anderson Arts Center. My work is also hanging at the Anderson Mall, the new County Bank location on Hwy 81, and at D Jefferson and Associates. I've been working hard this year to improve my websites at https://jamiehansenart.com and https://www.flourishfamilycrests.com, where I sell my work online.
"Jamie is not only successful as an artist, but also an entrepreneur." said Kimberly Spears, Economic Development Director for the City of Anderson. "She has participated in a variety of programming and educational opportunities through the city in order to grow as a businesswoman. It is always exciting to see an artist channel their talent to create a viable business model in our community."
Be sure to visit my exhibit beginning June 7th through August at the Anderson Area YMCA. The exhibition is open to the public. Even if you are a not a member of the YMCA, stop by the front desk to for a free guest pass to view the exhibition.