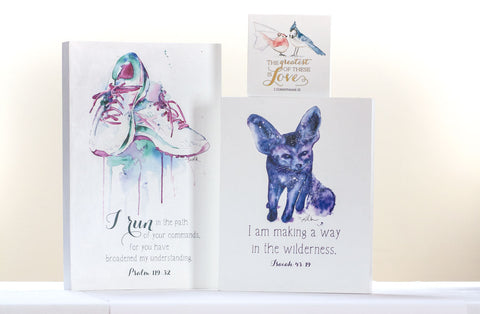 How my amazing church is helping my art career
This morning, I stepped out of my studio on a mission: I needed good photos of my art in a craft show or market setting.  I needed to show potential venues how my pieces might look if they invited me to show or sell in their space.  I hoped to shoot some beautiful photos of my pieces telling a more cohesive story.
Last week I reached out and reserved the fellowship hall at my church for a photography session.  I rented a white table cloth, and got all my prints together as well as a few display pieces that I had made for past events. My husband helped me load several boxes into the car. I'm just getting started, but I want to look like I've done this before! 
What I brought:
Camera and tripod
easels and display pieces
art and signage
iron and ironing board
6 foot table cloth that I rented
What I used at the church:
their beautiful space
one 6 foot table
natural and overhead lighting
My takeaway: the space was beautiful and provided me with everything I needed to create sharp photos of my art in a potential market setting.  Now, armed with great photos of my work, I'm ready to start applying for some shows! I hope to see some of you in the Anderson and Greenville area as I start planning to attend some markets for the holiday shopping season.