Colorful Piano: Watercolor art of a Piano Keyboard
Regular price

$25.00
Sale price
Share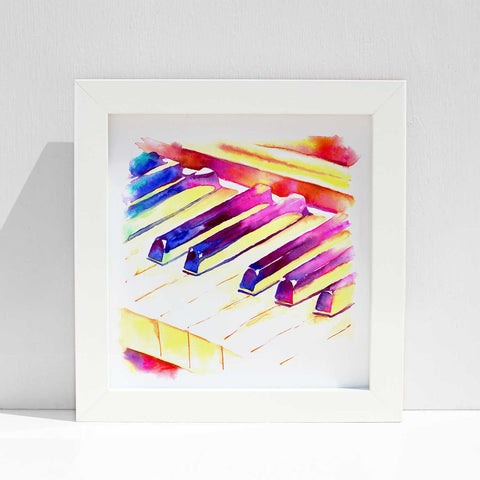 This is one of many paintings of our 1920's parlor grand piano made by the Cunningham company in PA and brought to SC by me and my family. This little painting would be a pretty gift for your piano teacher or a great accent for your music room. Original is sold.

Add a splash of color and a touch of musical history to your home with this 8" x 8" rainbow colored piano painting. The bright and bold hues of this piece bring a sense of fun and playfulness, while the beautifully rendered details of the piano showcase the beauty and craftsmanship of this iconic instrument.
The piano is a keyboard instrument that has been a staple of Western classical music for over 300 years. It was invented in the late 17th century, and has since undergone numerous innovations and modifications. Today, pianos come in a wide range of sizes and styles, from the small, portable upright piano to the grand concert piano.
Whether you're a musician or simply appreciate the beauty of musical instruments, this painting is a unique and eye-catching way to add a touch of musical inspiration to your home. Hang it in your living room, bedroom, or music studio for a dash of artistic flair and a splash of color.