Regimental Arms of San Juan from "San Juan 1797" Art Print
Regular price

$70.00
Sale price
Share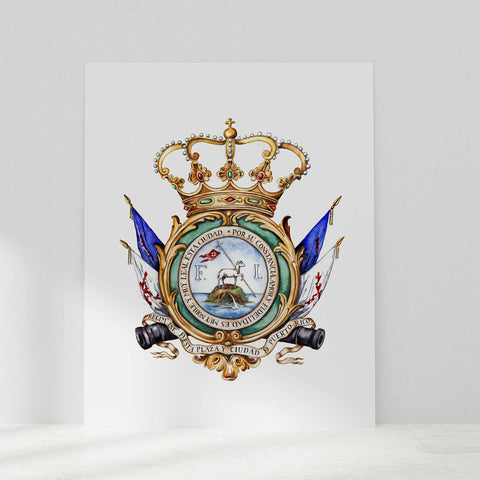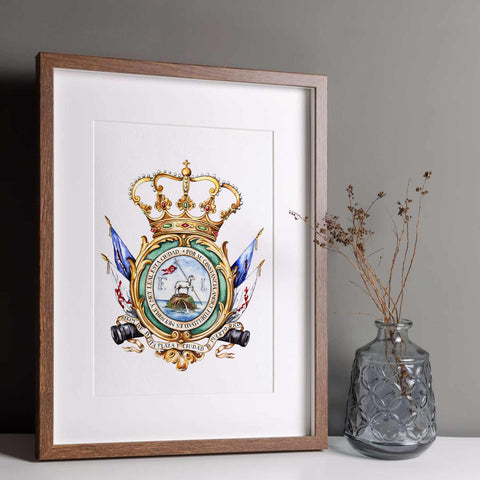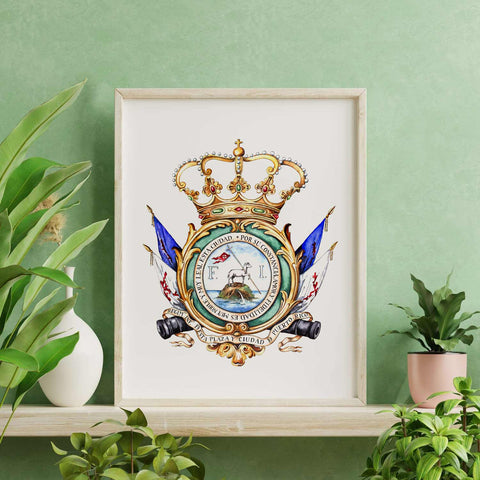 This is a celebration of the history of San Juan, Puerto Rico. My art is as faithful as possible to the image of the garrison regiment arms painted sometime between 1798 and 1804. This illustration was created based on research by José E. López Reyes and featured in his book, San Juan 1797 Illustrated Compendium.
Museum-quality giclee ships flat.

Printed on acid-free, archival watercolor/torchon paper.
Mounted on sturdy matboard.
Printed in the US.
Frame is not included.
The banner at the bottom of this art translates to "Regiment of Infantry of this Place and City of Puerto Rico."
The text on the inside of the frame appears on the modern arms of the city of San Juan and translates to "For constancy, love and fidelity, this city is very noble and very loyal."
From San Juan 1797
Illustrated Compendium of the Great British Siege of San Juan de Puerto Rico in 1797 
See The Book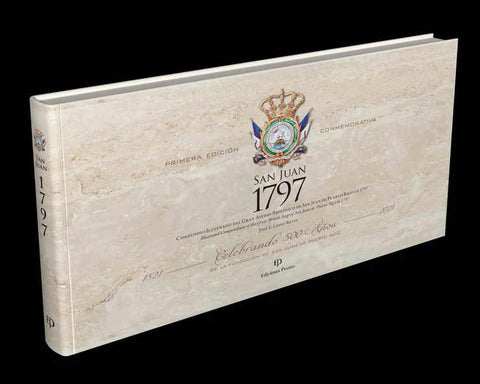 San Juan 1797
José E. López Reyes and I first connected in September of 2018 when he was looking an artist to bring new life to an over 200 year old image of the arms awarded by Spain to the garrison regiment that defended San Juan during the Siege in 1797. "The only illustration in existence was sent to me by Mr. Lopez, scanned from Juan Manuel Zapatero's 1964 book "The Caribbean War in the 18th Century" in black and white.
See the Book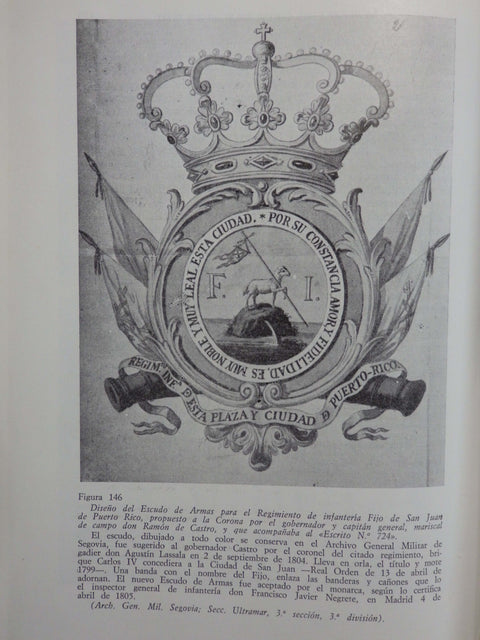 From "The Caribbean War in the 18th Century"
 Figure 146
Design of the Coat of Arms for the Fixed (Garrison) Infantry Regiment of San Juan de Puerto Rico, proposed to the Crown by the governor and captain general, field marshal don Ramón de Castro, and that was accompanied by "Writing No. 724".
The crest, drawn in full color and preserved in the General Military Archive of Segovia, was suggested to governor Castro by the colonel of the cited regiment, brigadier don Agustín Lassala on September 2, of 1804. It reads on the border, the title and motto that Charles IV granted the City of San Juan – Royal order of April 13, 1799 -. A band with the name of the Garrison, links the banners and cannons that adorn it. The new coat of arms was accepted by the monarch, as certified by the infantry inspector don Francisco Javier Negrete, in Madrid April 4, 1805."
About Our Art
We worked hard to avoid pulling inspiration from modern interpretations of the arms and looked to examples of heraldry created in the 1800's and before. All of our color choices were informed by historical pieces we researched: some in Puerto Rico and some from vintage pieces that I admired and used as inspiration for other heraldry illustrations.
I hope that my art helps its viewers more deeply connect and experience San Juan's rich and vibrant history.
San Juan 1797