Guitar Capo and Headstock | watercolor of a capo
Regular price

$25.00
Sale price
Share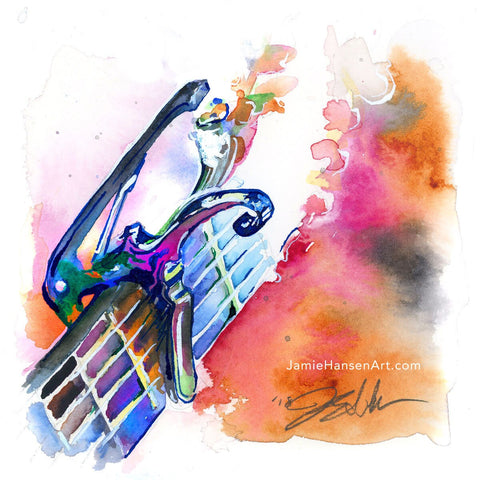 This painting would be at home in a music room or studio. My vibrant watercolor art is printed on a matte 8" x 8" paper. Create a grouping or display your print in a small space. Fits an 8" x 8" or smaller frame. Ships flat. Frame is not included.
The rich blue and sienna hues and beautifully rendered details of the guitar and capo make this piece a unique and eye-catching addition to any room.
The capo is a small device that is used to change the pitch of a guitar or other stringed instrument by pressing down on the strings at a specific point along the neck. It is a useful tool for musicians who want to play in different keys without having to learn new chord shapes or fingerings. The capo is a simple but powerful device that has become an essential part of many guitarists' toolkits.
Whether you're a musician or simply appreciate the beauty of musical instruments, this painting is a beautiful and artistic way to add a touch of musical inspiration to your home. Hang it in your living room, bedroom, or music studio for a dash of artistic flair and a splash of color.

These high-quality prints on paper are in stock and ship right away from my sunny studio in Virginia.