Fender Precision Bass Guitar Painting
Regular price

$20.00
Sale price
Share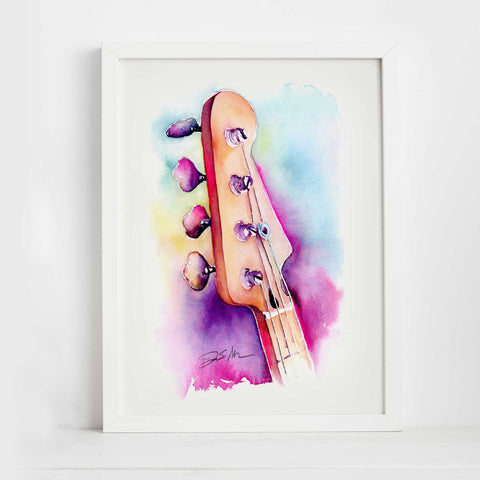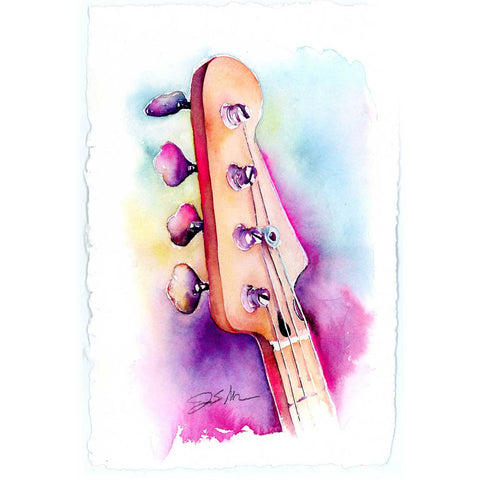 This is a Fender P Bass - that's hanging on the wall of our music room. It was one of my husband's many COVID purchases: He needed a musical outlet after his choirs couldn't meet.
The Fender Precision Bass (also known as the "P-bass") is a type of electric bass guitar that was introduced by Fender in 1951. It is one of the most iconic and widely used bass guitars in the world, and has played a key role in the development of popular music over the past 70 years.
The Precision Bass is distinguished by its single-cutaway body, which allows for easier access to the upper frets, and its split single-coil pickup, which gives it a distinctive, punchy tone. It has a solid body and a bolt-on neck, and is available in a range of colors and finishes.
I've painted this Fender Precision Bass guitar headstock on 300# rough arches watercolor paper. It measures 13" x 9." It would make a great gift for a guitarist or a colorful accent for your practice space.
Original available
8"x10" print available
Frame is not included.
I have worked in watercolors for over 20 years. My colorful music series celebrates the joy, relationships, and community created through music. I hope that these vibrant music-themed works can be instruments of joy for your home.