Lake Isle III Mounted Watercolor
Regular price

$250.00
Sale price
Ships after Nov. 4, 2023.
Share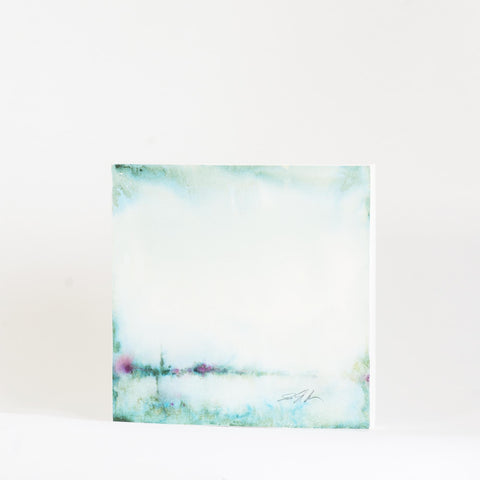 This one of a kind watercolor painting is about "The Lake Isle" by Ola Gjeilo. The sweeping and lilting lyrics are "The Lake Isle of Innisfree" by William Butler Yeats. The flecks of vibrant purple glint from the ocean-aqua field like tiny mysteries.
Size: 12" x 12"
My Soundscapes are partly born from the spaces I had painted around the musicians from my portraits project. What would I see if I looked in the spaces around them, where their music and their confidence surrounded them like a veil? Their sound and their energy would hang in the air like haze of color around them. The emotion from their music would be like a vapor that colored the space. They are are contemplative, experimental, hopeful, serene, and spontaneous.
Each of my original works includes a signed certificate of authenticity. My mounted watercolors are tactile artworks that can be displayed without a frame. They are sturdy, rigid, and meant to be touched. Read more about the techniques I use to create my mounted watercolors.
This original artwork will hang at the Page-Walker Arts & History Center through November 4. Purchase now and ship or pick up after November 4, 2023.