Accordion Watercolor Painting
Regular price

$25.00
Sale price
Share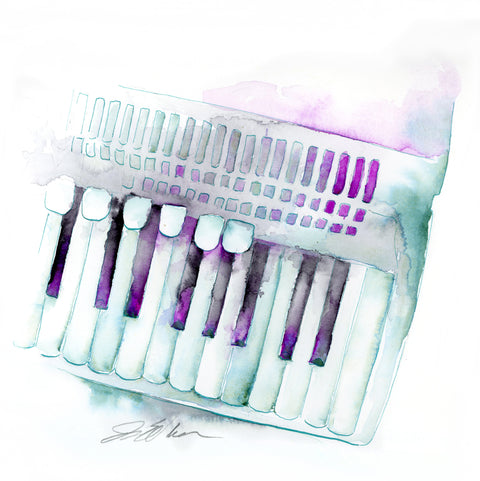 When I was posting more regularly, I had several people that followed my work and requested various pieces. I had a gal that bought some prints from me and asked if I could paint an accordion. I painted one, and it turned out badly (as watercolor often does). I painted another – also not so great.
What I do is supposed to be magic, right? I don't get things wrong. (jk.) There's no way I'm posting pieces I don't like. I had no interest in accordions, but I dutifully drew another, and it sat in my desk for months as I struggled with websites, new roles and gigs, and flagging motivation.
Well, I finally painted that accordion last night. I don't really love it, but it was nice to use my new brushes and I realize that I don't have to love every one of my pieces. I hope it makes you feel joyful and I liked the way these colors work together.
My original paintings include a certificate of authenticity. Frame is not included. This one is 10" x 9" on 300lb arches hot pressed paper.
8" x 8" prints of my watercolor ship from my studio.