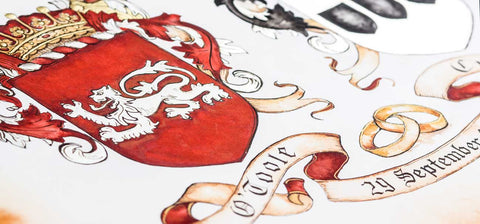 Why I love creating personalized art
When I was a kid, I drew unicorns on the backs of all my school papers.  In high school, I carried a sketchbook and sat in the back of the classroom hoping for my next art class.  In college, I spent a semester in Europe traveling with a backpack full of watercolor supplies.
I earned a BFA in Fine Art and have been working in watercolor for over 15 years. After working in the gift and home industry to create wall decor and giftware, I felt called to create something more purposeful and personalized.  There are thousands of images and paintings available to an art buyer, but I wanted to help my clients create images that spoke about their unique story.  I wanted to be an artist that created things that were beautiful, but also meaningful. 
Using my background in calligraphy and drawing, I created my first coat of arms for a client in 2009, and opened an Etsy shop in 2010 to collaborate with even more families. My artworks and materials are inspired by pieces created long ago, but the stories behind these pieces are as current and contemporary as the families who hire me.  Like the families I work with, each piece is nuanced and unique.  Each  brings me joy as I use my love for art to help families celebrate their relationships and their lives together.