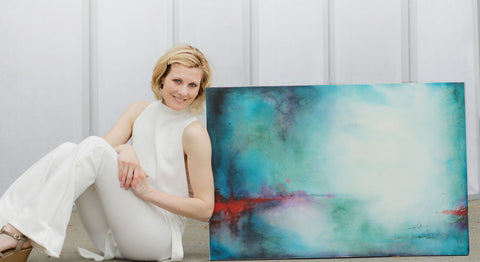 "Precarious:" A Collaboration With Nebula Ensemble
I have partnered with Nebula Ensemble, an award-winning experimental music group, to create a unique artwork with its own soundtrack. On April 29, 2022 at 7:00PM, Nebula Ensemble will premiere the new musical composition at The People's Building in Aurora, Colorado.
About the Venue
The People's Building is located at 9995 E Colfax Ave, Aurora, CO 80010. The space is a retrofitted furniture store turned performance and event space in the heart of Aurora's Creative District. Nebula Ensemble has collaborated with several visual artists to create an evening of music paired with visual art. Their upcoming concert, Sonic Images, will feature musical work created in collaboration with me and other visual artists.
I connected with Nebula Ensemble last year. Drawn to their use of technology,  the experimental music the group creates innovative pieces with traditional instrumentation. I love supporting other creators and I reached out to ask how I could get involved.
 
About my Painting

The ensemble director paired me with composer, classical guitarist, vocalist, and singer-songwriter Sarah Perske. We met over zoom and discussed the creative processes.
Sarah suggested that we might start the work together with a "sound sketch." I created a rough beginning in pale blue. The watercolor art took shape in subsequent layers, responding to Sarah's musical replies. We passed musical sketches and watercolor sketches over Dropbox folders, and I recorded each painting session as the art took shape.
Sarah's work aims to expand the boundaries of music-making through the integration of performance art and cross-disciplinary collaboration. She recalls: "As I wrote the music, I tried to match my composing process to Jamie's watercolor process: allowing "accidents" to re-shape the direction of the work, and using improvisation to generate much of the musical material. The end result is a work that comments on the nature of the creative process while inviting the audience to participate in that experience."
How you can support Nebula
The musical composition and video of the process while creating "Precarious" will debut at Nebula Ensemble's Sonic Images concert on April 29 at 7:00PM at The People's Building in Aurora, Colorado. Listeners van see my original artwork with its soundtrack.
 
Donors can support Nebula Ensemble with a purchase of an event ticket and with a purchase of visual art. Proceeds from the purchase of the painting will support upcoming performances by Nebula Ensemble.