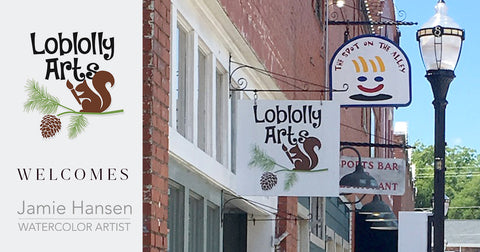 I'm Now Showing at Loblolly Arts in Seneca
I'm so excited to bring my work to Seneca to show at Loblolly Arts.  I met Crystal Romanyszyn after I learned about the gallery from an article on the Anderson Artists Guild site.  I thought that the gallery was a beautiful space and I reached out to Crystal to ask if she was interested in showing my work.
Loblolly Arts is named after the local pine trees. The gallery includes pieces from about 45 artists. The space is contemporary, with a bright and hip style and wonderful hardwood floors. There are exciting new works coming in often, and Crystal, the gallery's owner, rearranges displays of art frequently.
Crystal is also an artist.  She creates creating steam-punk jewelry and miniature sculptures from the parts she inherited from her grandfather's workshop. "Using these pieces is special because they sat in storage for almost 40 years after he passed," she said. "I have vivid memories of him at his workshop bench creating new watches from old broken ones."
You'll find a few of my original musical pieces, a variety of mounted prints, and cards and small prints from me at the gallery.   Downtown Seneca hosts events on Thursday and Saturday; the area is an exciting place to spend an evening.
The gallery is located at 124 Ram Cat Alley in Seneca. See their website
here.