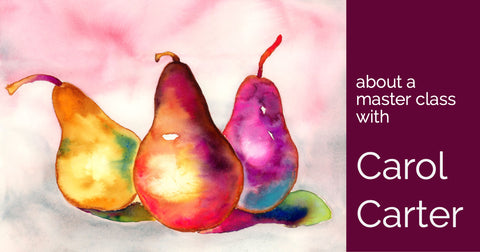 Notes from my Watercolor Masterclass with Carol Carter
Missouri was cold and bright this past Friday. There were mounds of days-old snow on the ground by the runway as the plane landed. I came to Saint Louis to find my voice as an artist. After more than a year of semi-successful paintings frozen between dozens of commissions and e-commerce webinars, I had wondered if maybe I was meant to only tell other people's stories through my paintings.
I flew to Saint Louis to meet an artist who has influenced and informed my work for years. I finally found the opportunity to study with Carol Carter, a master watercolor artist who has forged big innovations in color usage and paint application. Each day after the workshop, I took my little notebook back to the hotel and typed notes about her colors, techniques and advice. I typed more than three pages of ideas about products to buy and techniques to use in my paintings.
I asked her about the business of being an artist and the tools that she used to build her career. I learned about new brands to try and innovative artists to follow. I won't share my notes about her colors or products. You'll have to take her workshop to learn for yourself about the fascinating techniques she created. You'll have to see her in person to watch her create glowing washes like no other watercolor artist I've ever seen. I'm going to keep those tricks to myself for a while as I use them to more eloquently explore my message.
I do want to write about her candor and compassion for each of her students, and her desire to see each of us create a successful painting in her workshop. I want to tell everyone about the piles of snacks and fresh fruit that she brought for all of us each day, to make sure that we were comfortable and well-fed as we learned. I loved the fast pace of her workshop and the challenging compositions she guided us through. I appreciated her demonstrations followed by hands-on experience working in her studio.
I was finally able to see her works in person: large-scale watercolor paintings that have inspired me for years. I loved listening to her talk about her works, not only to learn the stories behind the pieces I've admired but also to learn about how to explain my own work. I found inspiration not only in Carol's methods, but also in her wisdom. I'm so excited to explore the new ideas I'm bringing home, including the confidence and courage to continue finding my own story in my art.
Featured image below: pears, painted by me at the workshop.