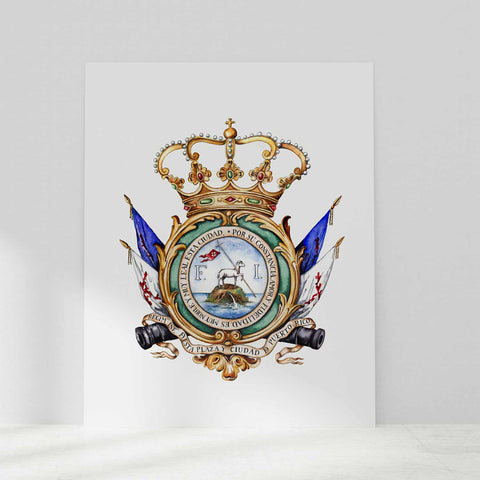 My Heraldry Art: As seen in El Nuevo Día
This past year, my husband and I had the opportunity to take an amazing trip to San Juan, Puerto Rico. We stayed at The Gallery Inn and I gave an artist's talk as part of the celebration of the book "San Juan 1797" by José E. López Reyes.
The illustration that José and I created together is featured on the cover of his book. We re-created an illustration of the arms awarded by Spain to the garrison regiment that defended San Juan during the British siege of 1797. My watercolor painting is about two and a half feet tall and is currently hanging at Interamerican University in San Juan.
This week "San Juan 1797″ received a wonderful review in El Nuevo Día, one of the island's largest papers. My illustration is featured in the article. See the article here!
 Read more about my trip in this blog post or order a copy of "San Juan 1797."
 At first glance it looks like the shield of San Juan, but it is not. This shield first appeared in the book 'The War in the 18th Century Caribbean' by Juan Manuel Zapatero. Zapatero writes about the governor of Puerto Rico, then Ramón de Castro, who received the image as a proposal for the coat of arms of the city's fixed regiment in 1804. López says that he wrote to the archives of Segovia and to the one in Madrid and both indicated that they did not find the letter. The black and white photo in Zapatero's book is the only image of this shield that exists. With the help of heraldry expert Jamie Hansen, López recreated the shield for his book.