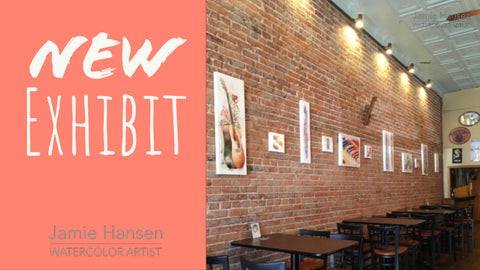 I'm showing at Brews on Main in Downtown Anderson.
"Everything looks great, and we have gotten a ton of complements," Notes Carri, the manager of the Downtown Anderson Brews on Main.  The craft beer shop and bar reached out to me last month to invite me to hang my art on their walls.  I installed the art last week. We will likely leave the art on display through Spring 2020.
My husband was a huge help in transporting the art and helping me to hang my the pieces on the exposed brick walls of the downtown shop.  My brightly colored art adds an unexpected pop of color to the walls, and I love the feel of the contemporary white panels on the old brick. 
The pieces on display are part of my music series  I am fascinated by pigments moving like music over wet expanses of quiet paper. Like a musician, I corral dozens of colors into joyful ensembles through my watercolors.   
Brews on Main is located at 130 North Main Street in downtown Anderson.  The art will be up for several months.  Be sure to come admire the pieces if you are in the Anderson Area.
Shop my art on my website, or hire me to create original art and illustrations to tell your story.