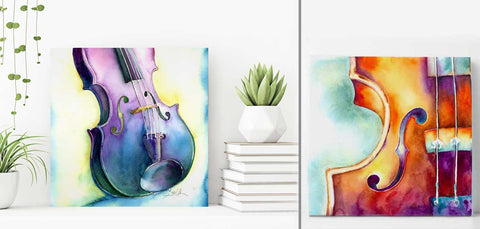 How to Get Involved with Music Education Advocacy
I recently shipped two of my original artworks (the Amethyst Violin and Colorful Violin) to Todd Rungren's nonprofit, Spirit of Harmony, to be sold during their fall auction. Sign up for my email list so I can update you when they go up for sale! 

I create art inspired by music, and I want to inspire musicians and music lovers to find joy and happiness in their craft, celebrate happy memories, and foster friendships made through shared musical experiences.
And what better way to do that than to advocate for music education? 
Like everyone at Spirit of Harmony, I believe that every child should have the opportunity to learn music regardless of their ability, socioeconomic status, or where they live. 
The benefits of music education go far beyond learning how to play an instrument—in fact, it has a lifelong positive impact on every aspect of life, including socially, academically, financially, and biologically. 
Here's a quick look at just some of the benefits of music education:
Even though there are plenty of proven benefits of music education, music programs are often cut from schools or don't receive the funds they need. Supporting music programs, music teachers, and young musicians is incredibly important to ensure that every child has access to music education.
Becoming an advocate is the simplest way to get involved in securing access to music education for the children in your community. 
Here are some ways to get involved: 
Connect with your local music programs and offer support. You can join or start a booster club for the music program at your child's school. Volunteer your time, donate resources, or help fund raise to guarantee the music program's success.
Gather allies who are committed to preserving music education in schools. Together, you can come up with ideas to support the music programs in your area.
Work with music directors, music teachers, and other supporters to promote performances, highlight students' achievements, and get the word out about all the great things the music program is doing.
Host musical instrument donation drives to provide new or gently used musical instruments for students.
Include advocacy information in concert programs, social media, websites, and in any other materials used to communicate with parents and the community.
Encourage administrators and school board members to sit in on classes and rehearsals to see how much of an impact music education has on the students.
Using these ideas to create your own advocacy plan is a great way to start supporting your local music programs and to help ensure that future generations of students get to reap all the benefits of music education. For even more information about music education advocacy, check out Spirit of Harmony's Music Education Advocacy Toolkit. 
Written by Toria Smith for Jamie Hansen Art