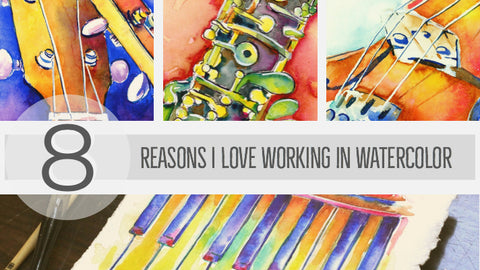 Eight Reasons I love working in watercolors
Eleven years ago, I remember the resignation that I felt when I found that I was pregnant and the doctor told me that I needed to reconsider my oil paints.  I remember converting my art studio to a nursery, and the final oil painting that I created there.  I remember struggling with difficult and confusing watercolors that could not be corrected.  I made the switch to exclusively watercolor about eleven years ago. I finally gave away the last of my oil paints and I don't regret it. Here are some of the reasons I love watercolor:
Health concerns: I was pregnant with my son and was advised to be careful about getting paint on my skin. Some of the chemicals in oil paint are harmful and difficult to wash off.
Speed of drying: watercolors, even wet washes are dry in about 30 minutes. Oils can take weeks to dry.
Speed of working: water dries fast and I can cover a large amount of paper in a short amount of time. Sometimes I can knock out a small watercolor in under an hour.
Studio space: I can stack 5 or 6 large watercolors in a corner of my studio or bedroom. They are portable and easy to store - even for someone who might not have an art studio.
Finished works store easier too: Paper is easy to lie flat in a drawer or portfolio. Canvasses are a lot bulkier.
Market saturation: There are more oil and acrylic artists in my area than watercolorists. I have less competition for art buyers who like watercolor.
The paints are portable: A small palette, brushes, and a watercolor block can fit in a small bag for on-location sketching.
Art prints are easy. I have a great scanner and professional printer. Sometimes it's hard to see the difference in my original art and a high-quality print on hot pressed paper. No canvas texture stands in the way of beautiful and true-to-life prints.
I love my watercolor paints and couldn't imagine switching back to oil. Sometimes the obstacles that we face lead us towards the path we were meant to take.  Was there an obstacle that pointed you down an unexpected path?